The Attain by Aetna app is a first-of-its kind health experience designed in collaboration with Apple. It combines an Aetna member's health history with their Apple Watch® activity to offer personalized goals, healthy actions and rewards — such as an Apple Watch or gift cards. To launch our new app, we created a dynamic brand then drove user awareness & downloads through a website, print and email/social campaigns. Post launch we worked to optimize app features and increase user engagement.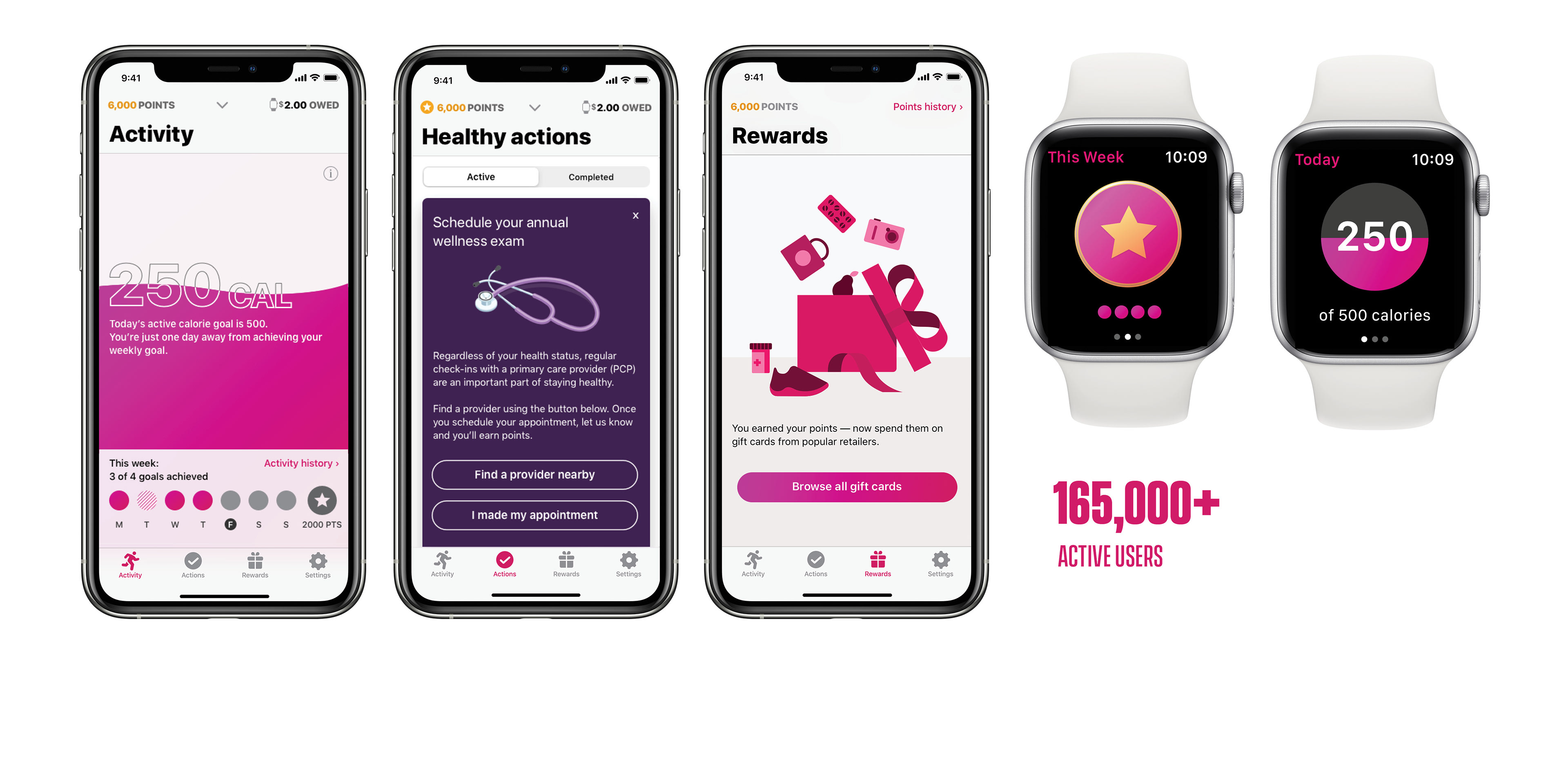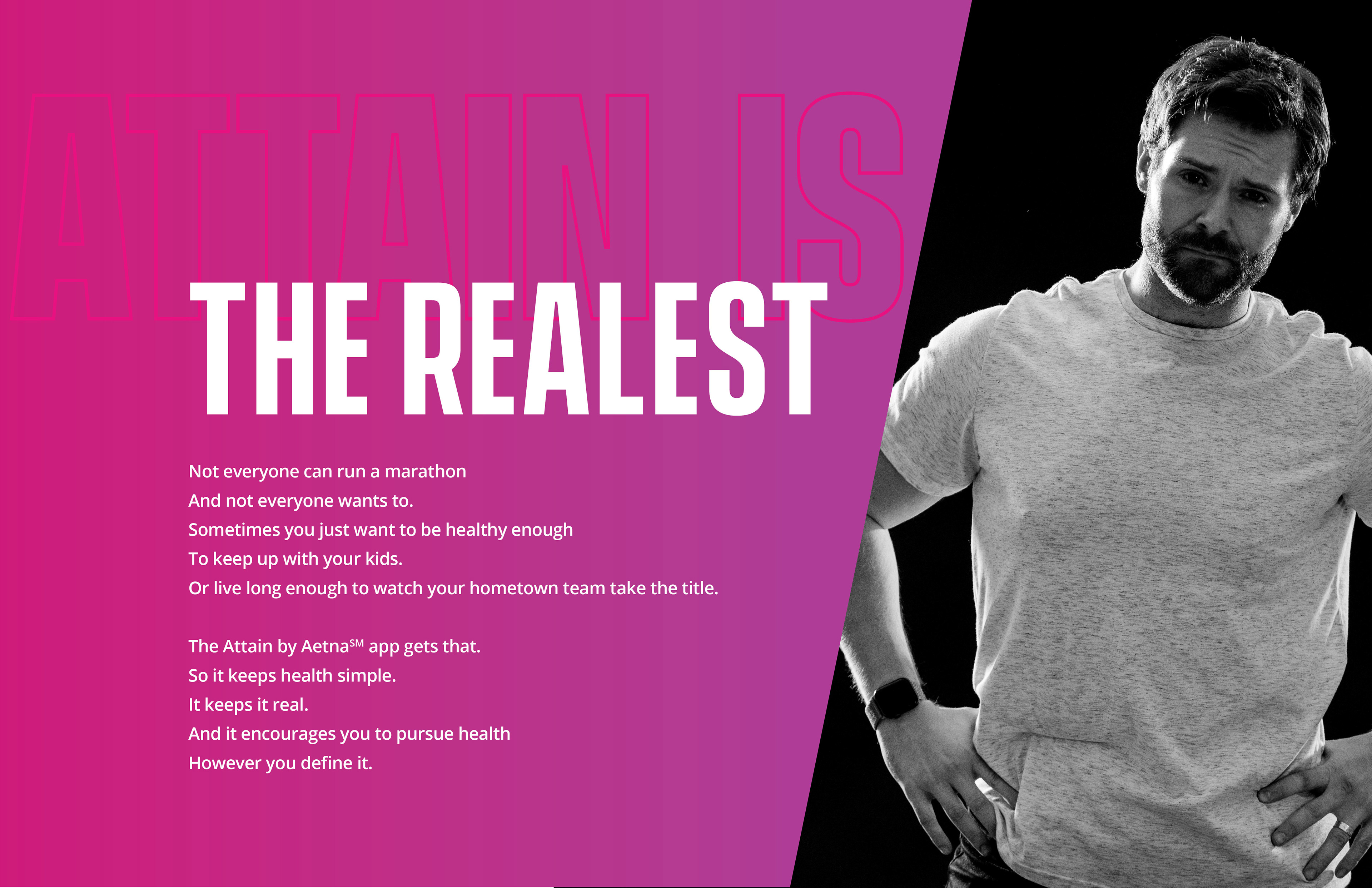 The Attain brand is centered around the consumer insight that "I don't need to be an athlete, I just need to be healthy enough for ____. " We focus on real everyday people in athletic situations that pay off as everyday health moments. Little steps like picking up a prescription or getting in more exercise in a day, bring our users one step closer to leading healthier lives.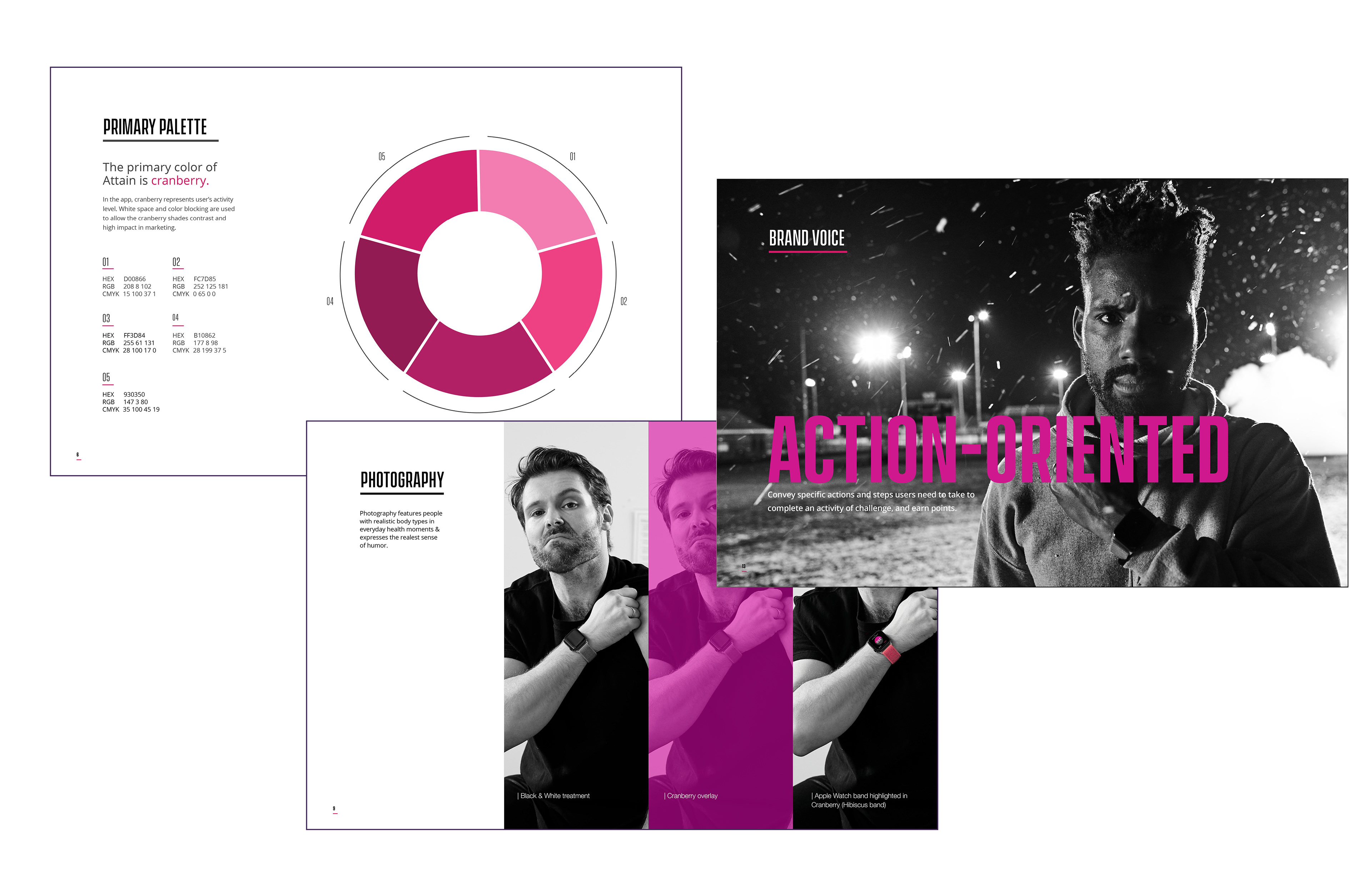 The Attain look and feel is bold and hints to athletic brands while featuring real looking people. This allows it to play in the athletic wearables space while also standing out in the health care category. Attain is more than an activity tracker as it is focused on health actions based on user health insurance claims data.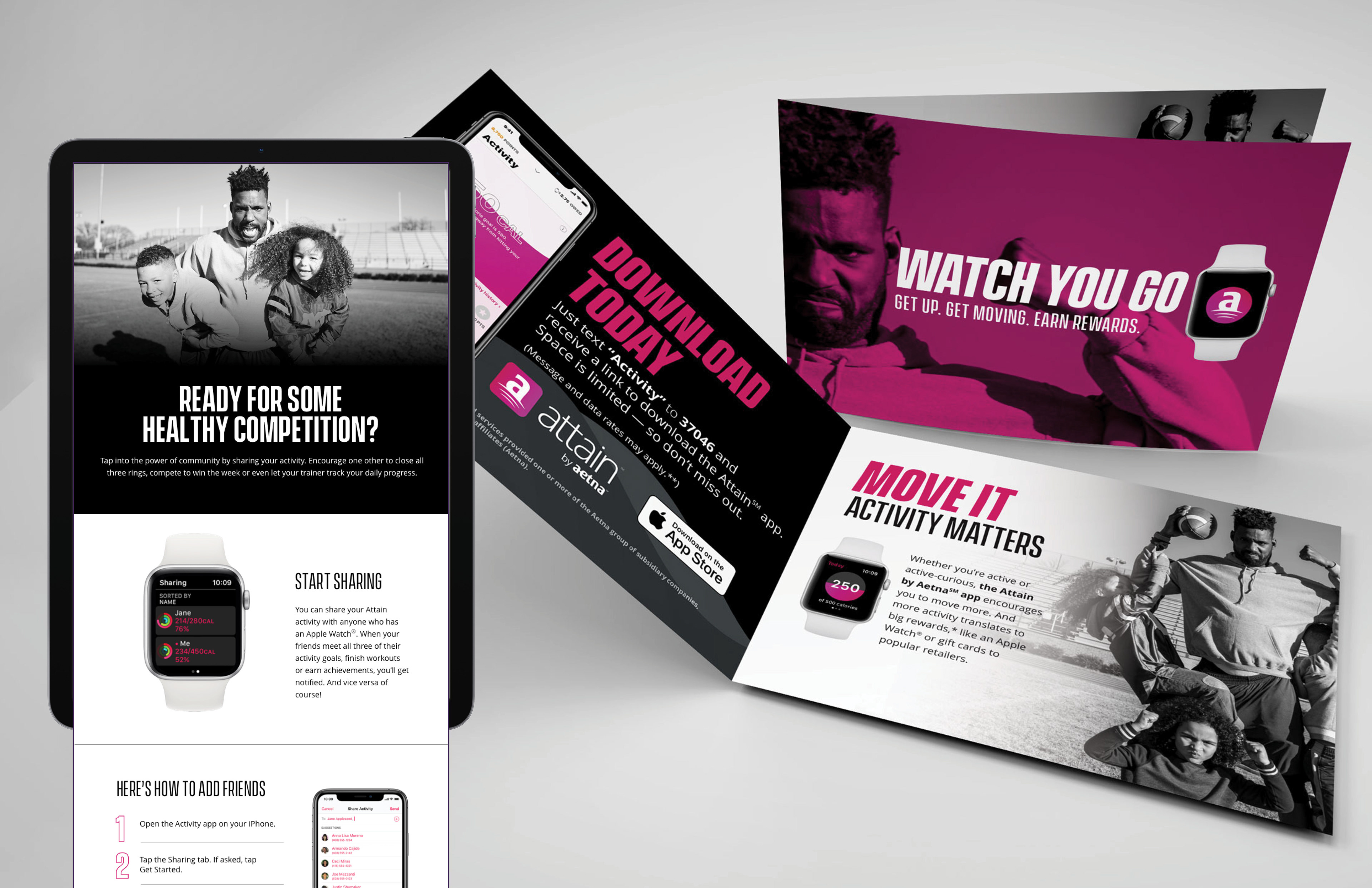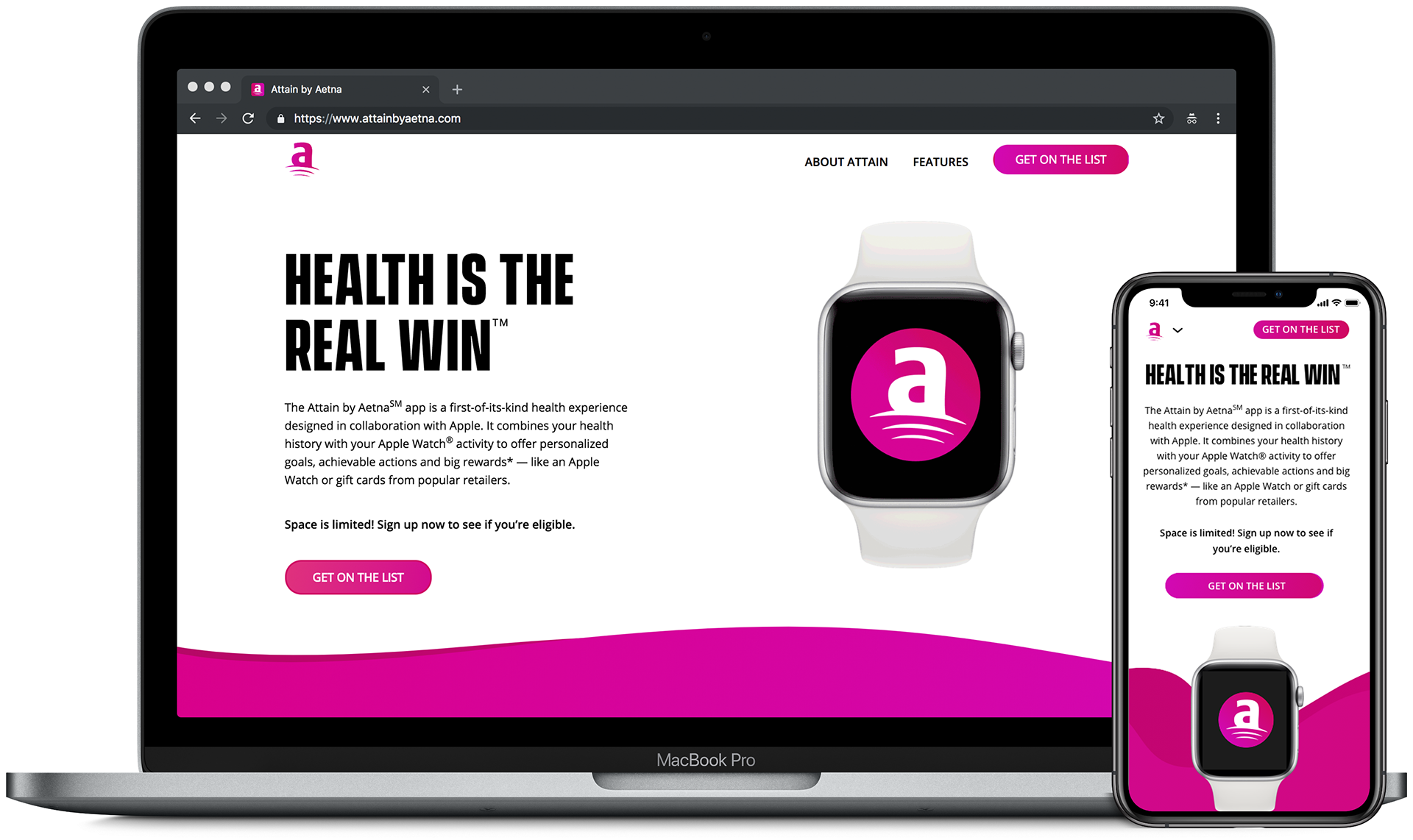 The main marketing piece for Attain is the website
attainbyaetna.com

.
The goal of the site is awareness of Attain and to drive users to download the app. As a user scrolls through the experience, they learn about the core featured of the app with dynamic animations as well as the personalized heath actions that combine to improve health outcomes. Users can also watch the campaign videos. For accessibility, users can toggle on and off the animation of the site making it a more inclusive experience.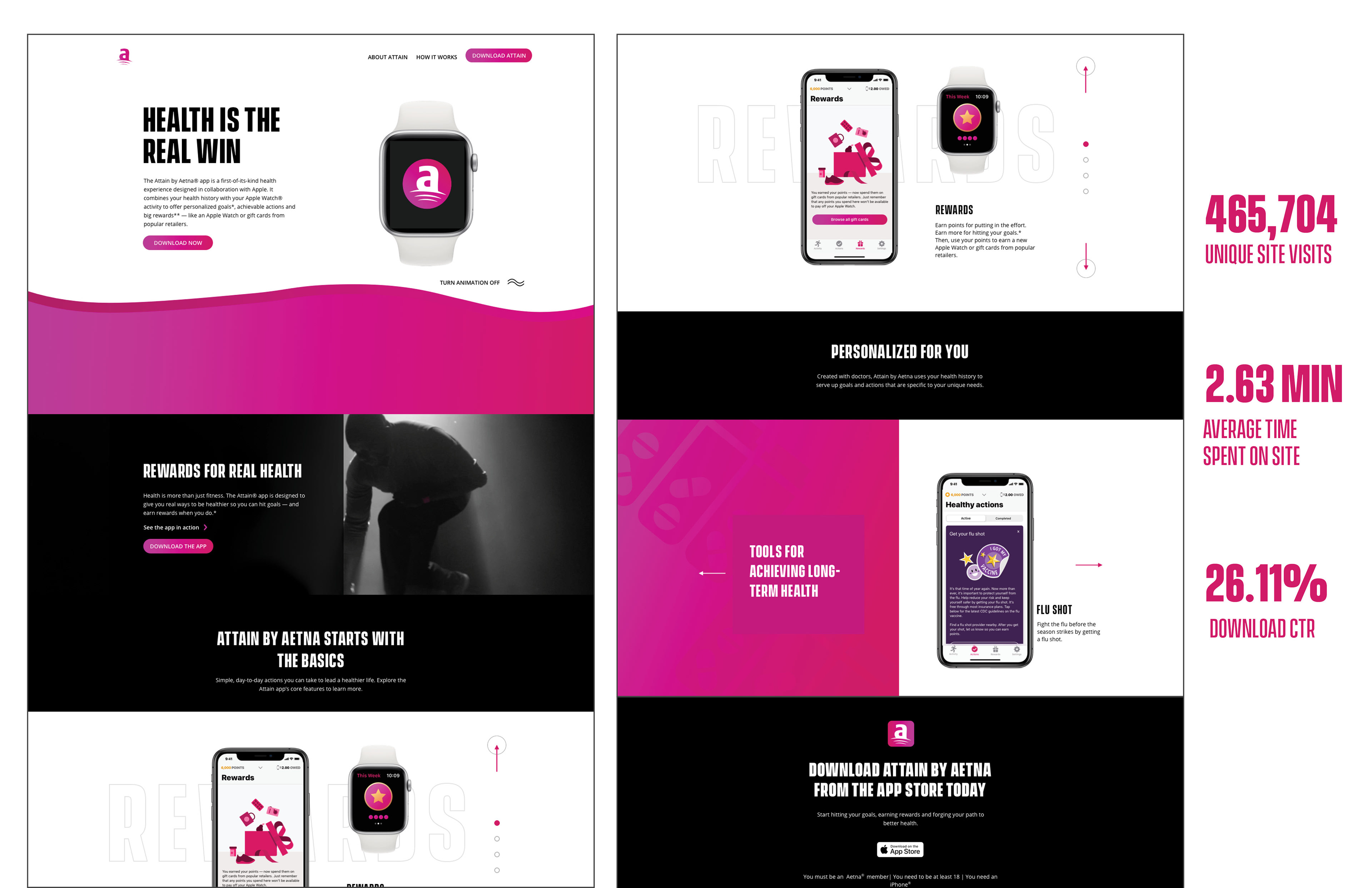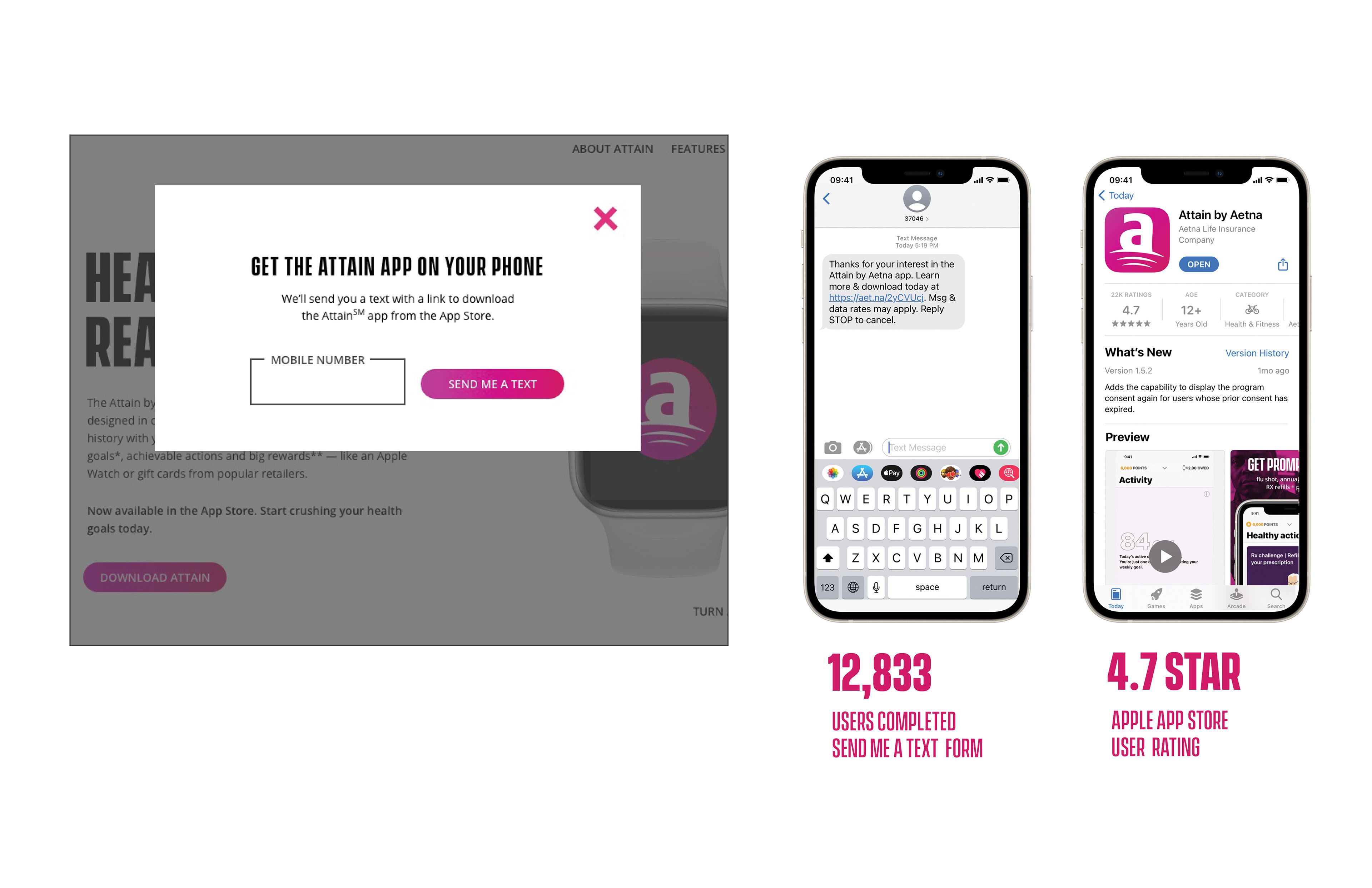 To increase ease of download for users viewing the site on desktop and tablet, users are prompted to enter their phone number and receive a text message that links them to the App store.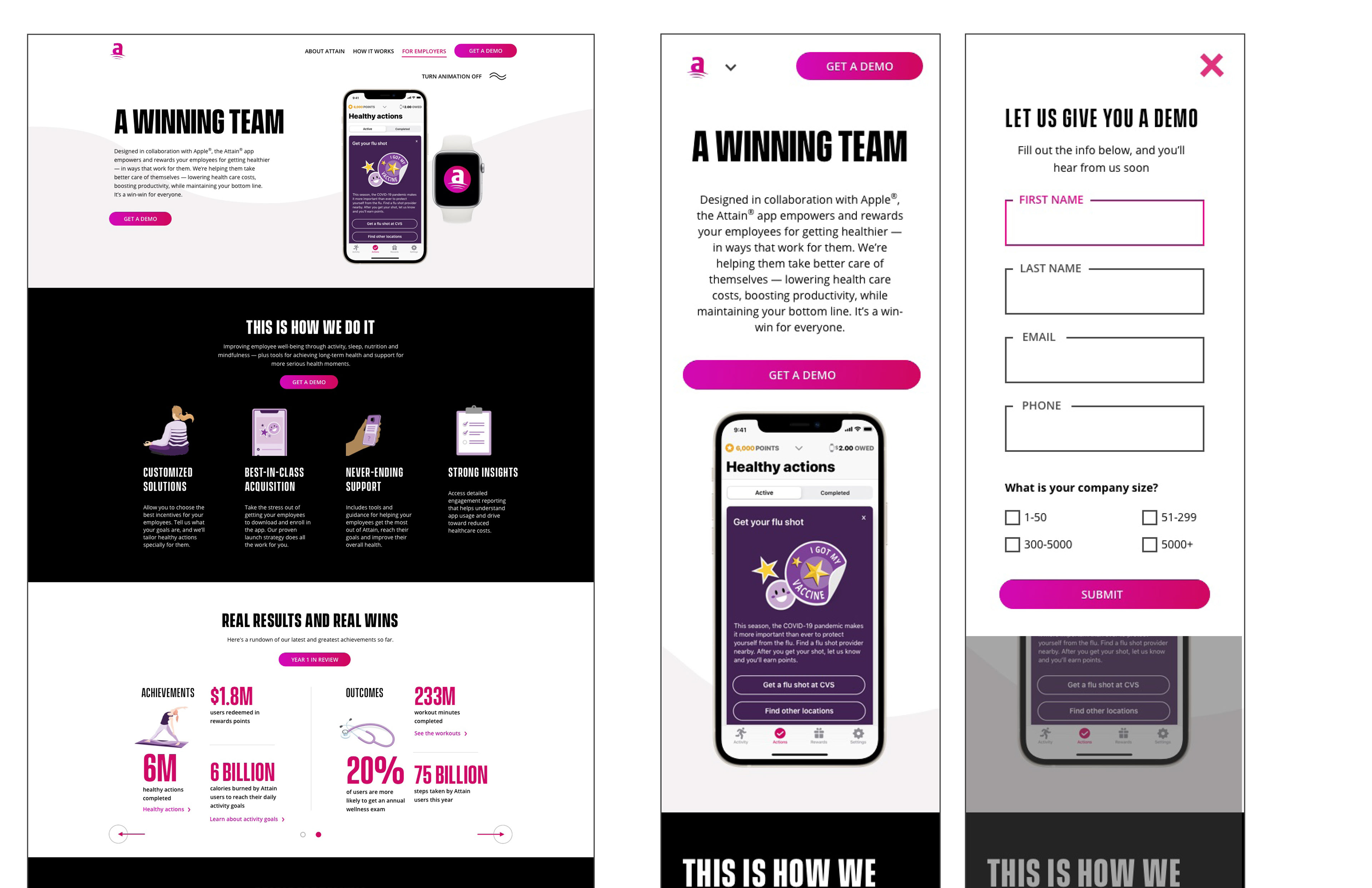 A secondary audience for Attain is the employers who choose to offer the program to their employees. We created a lead generation page on the site to share the benefits of Attain from an employer's point of view, share current results of users and drive to a form for a demo with the sales team.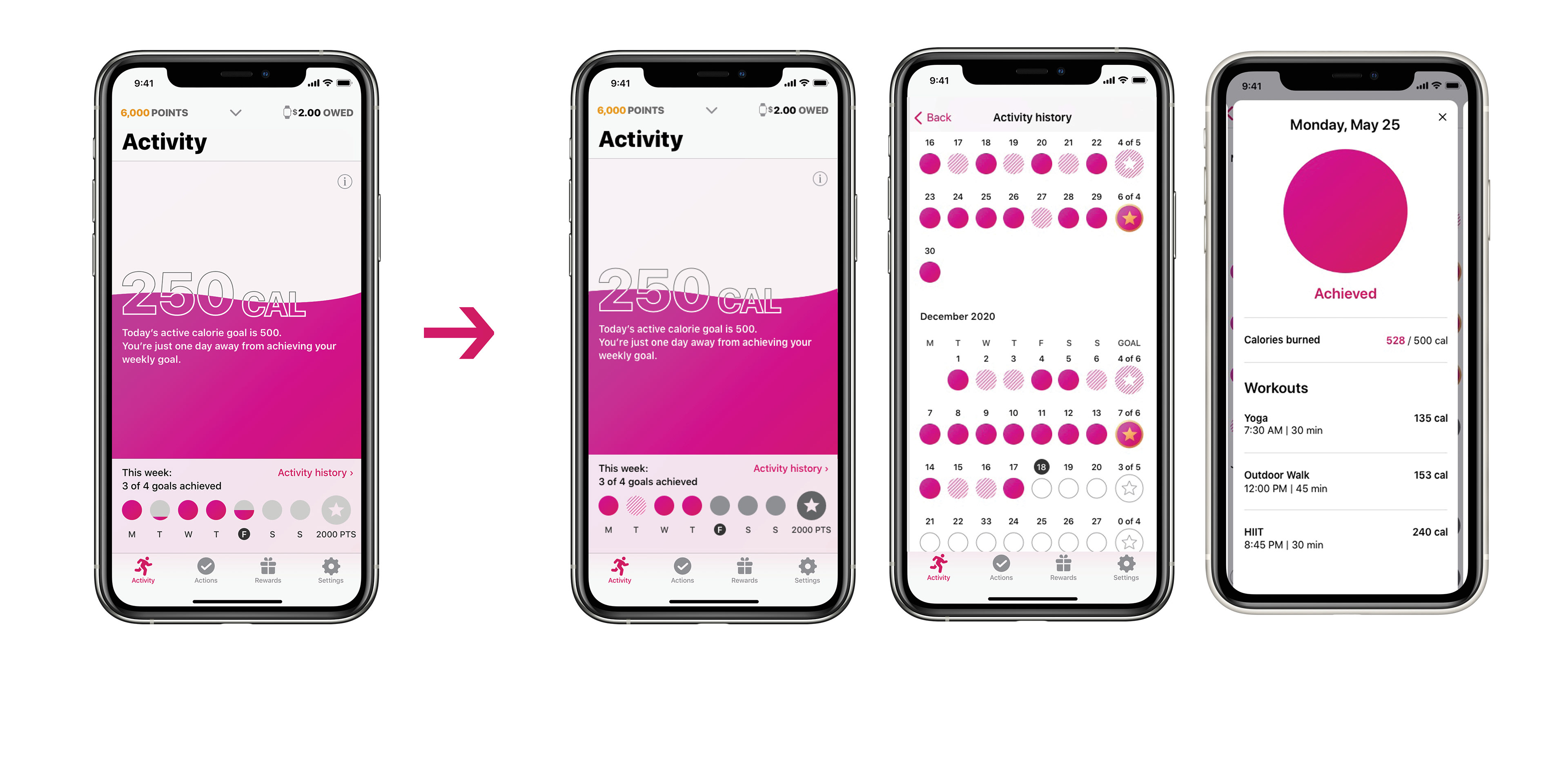 Activity circles were updated to more accurately indicate whether a day's goal has been completed by the user or not. In user feedback, the partially filled up circles caused confusion. Users expected to get partial credit for days when that is not the case. Users are also now able to click on a past day and see how they did with "activity look back". This feature was added due to user feedback and usability testing.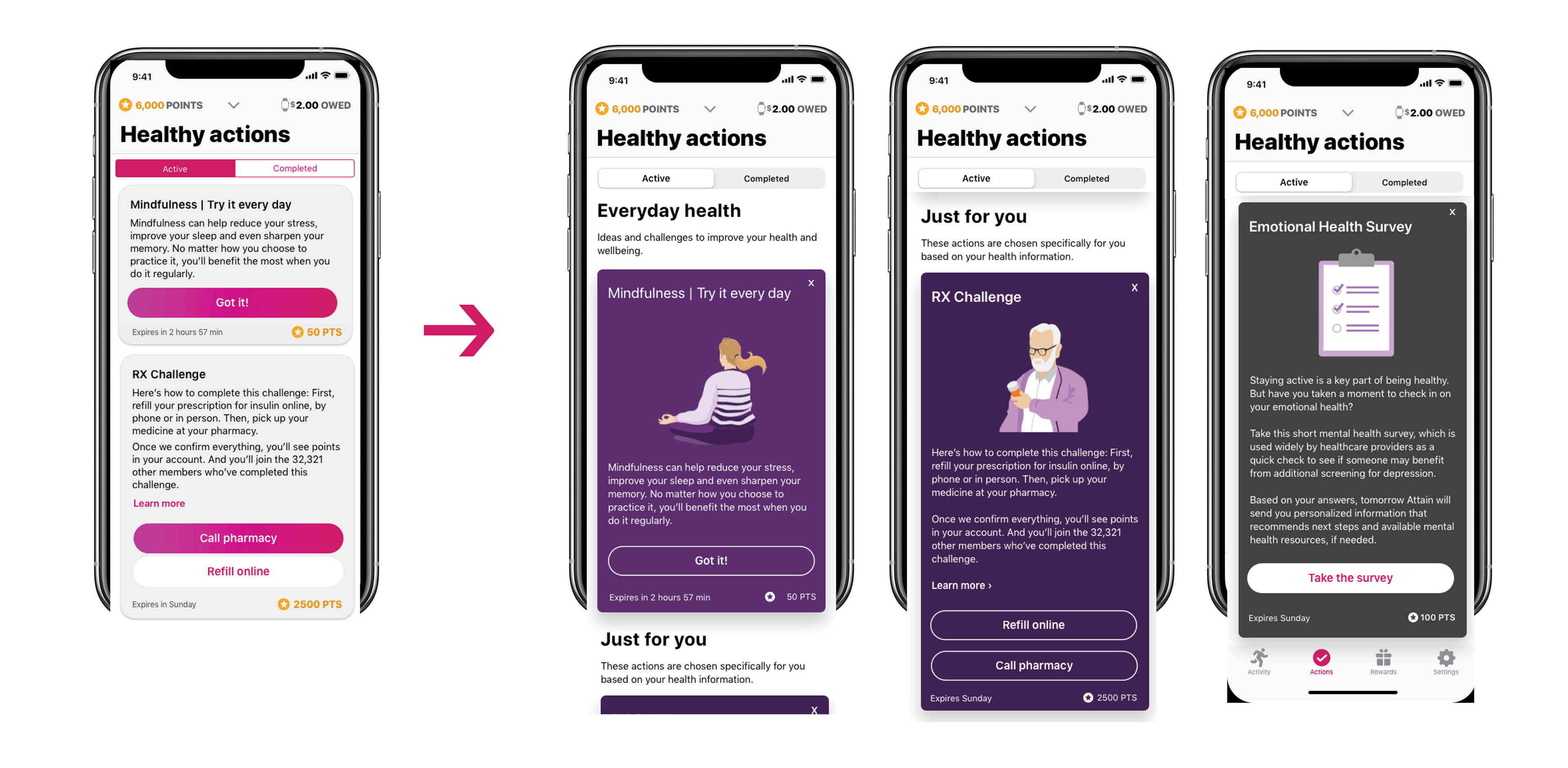 To increase engagement with Healthy Action cards, we increased the visual appeal and differentiated the types of cards. We commissioned custom illustration for each Healthy Action use case. Different shades of violet and section headlines now delineate "everyday health" topics all users receive from the more personalized "just for you" topics based on claims data.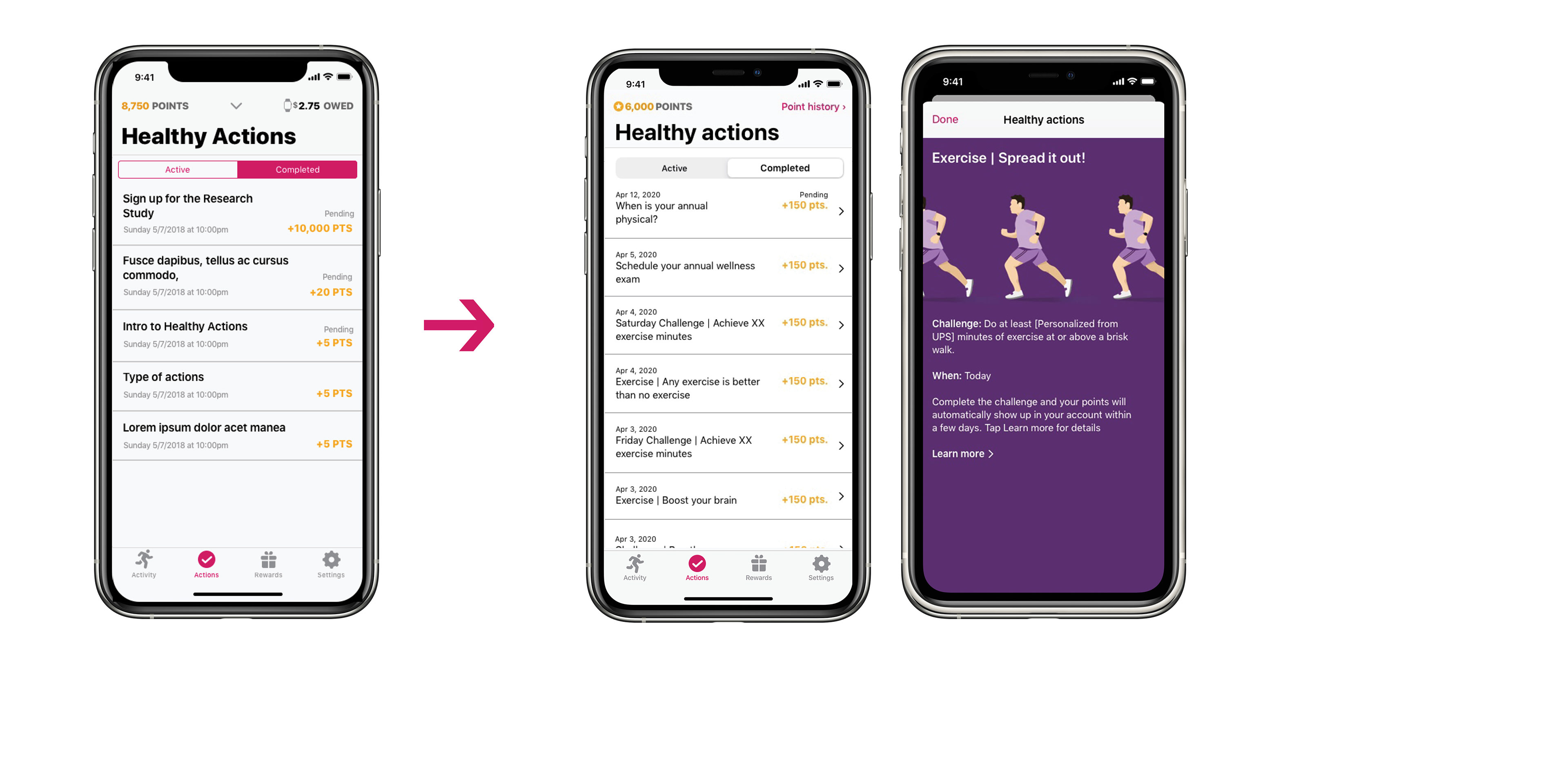 In testing, users expressed a desire to look at a past healthy action card topics, both to try them again and to remember what they had completed. We made the "completed actions" clickable so a user can review their past Healthy Action card information.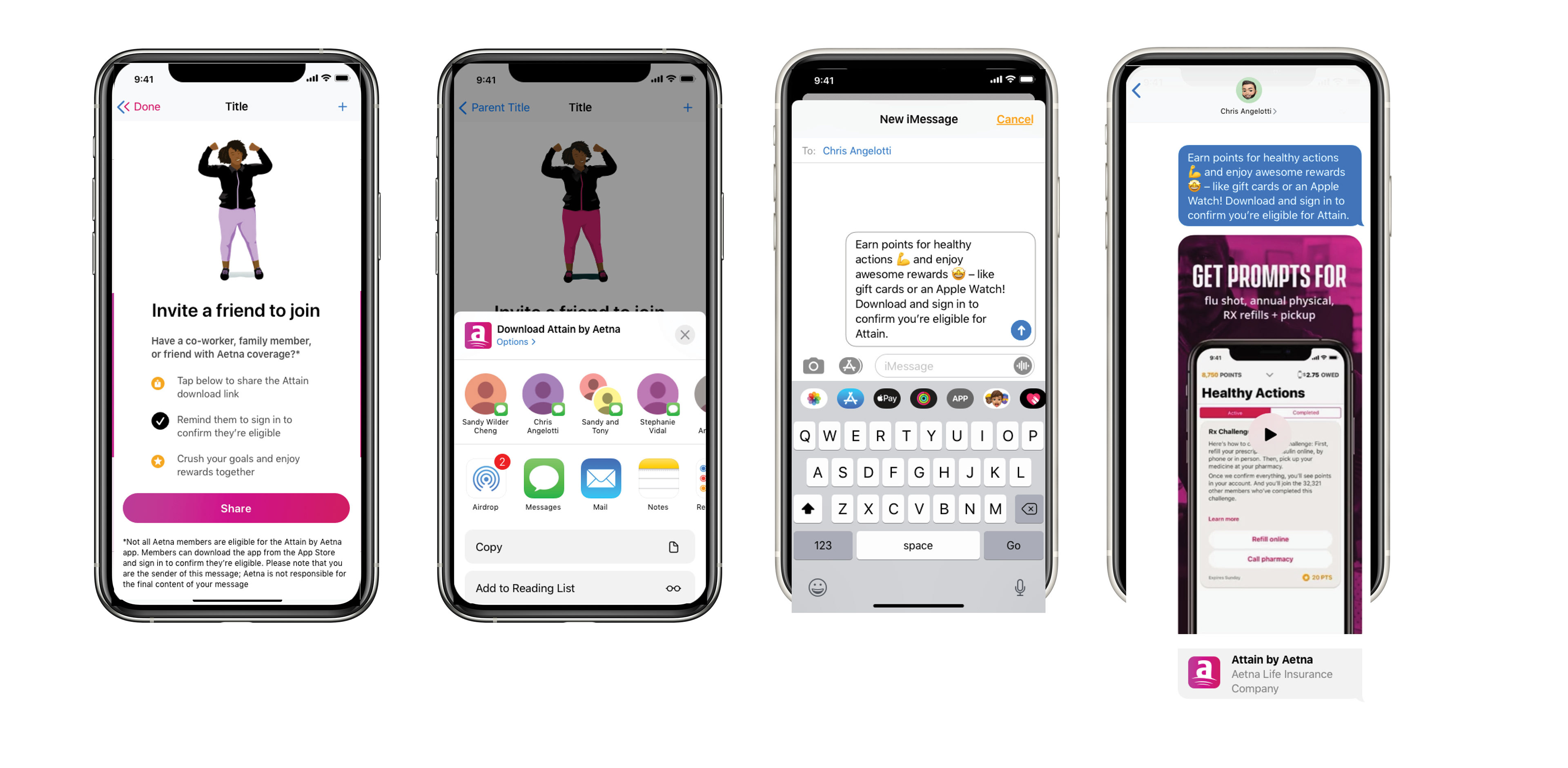 Users were often sharing Attain with their friends and family via word of mouth. We added the "share to a friend" feature in order to let a user easily share Attain. This also increases our sense of community in the program.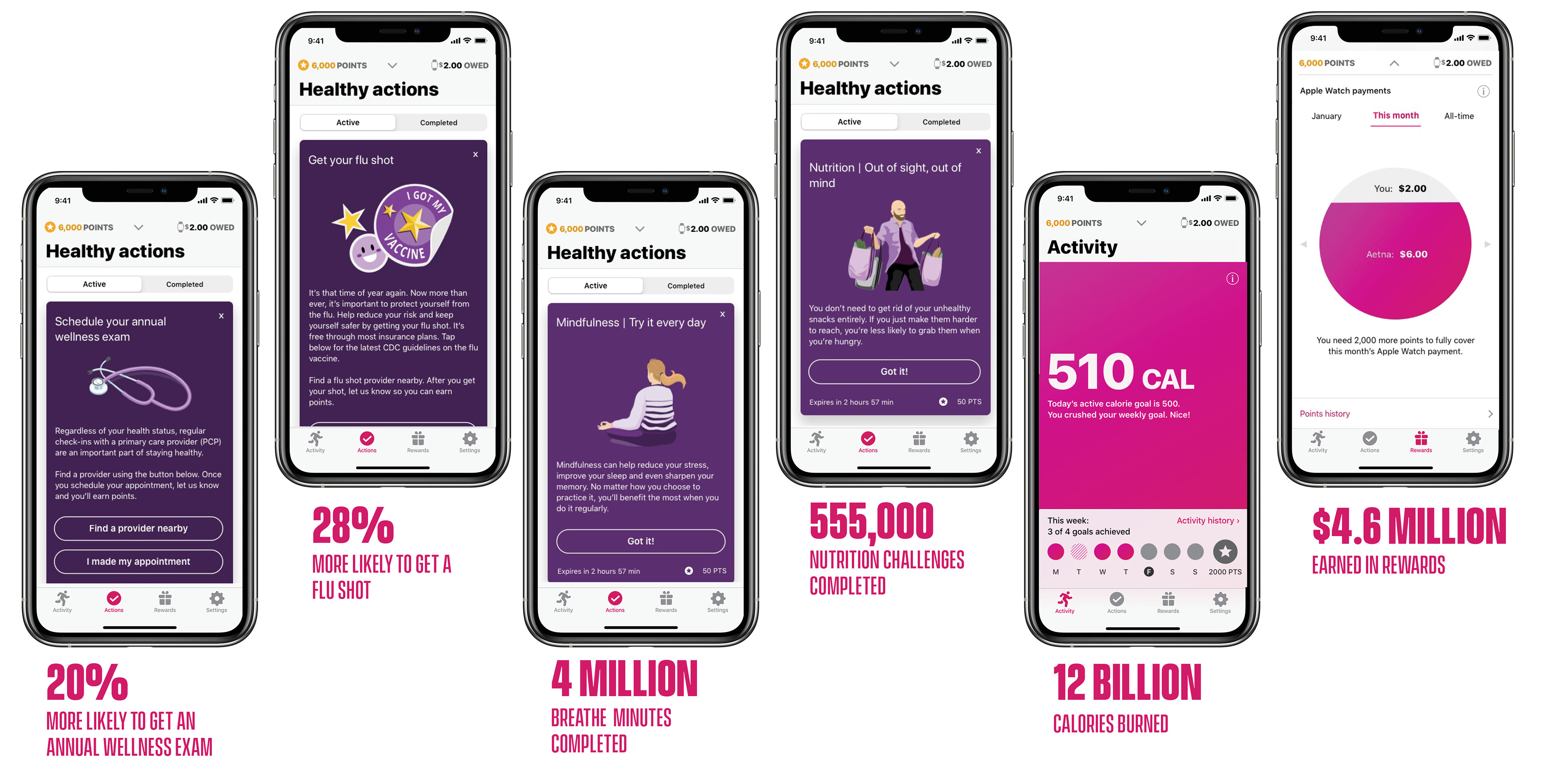 Active users of Attain have achieved several health successes over the first year, bringing them one step closer to leading healthier lives.